Aagents / Distributors In Oman for :

• British Standards
• Camridge University Press
• Oxford University Press
• Profea Textware
About Us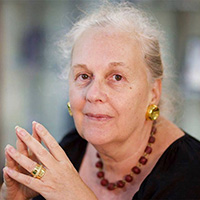 Maggie - Former teacher and ELT expert. 27 years in Oman. Owner / Director. In charge of marketing and quotations which are a bit like crossword puzzles.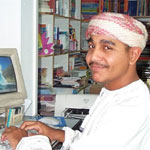 Bader - Partner and freight expert, linguist and PRO. In charge of transport and logistics. 15 years experience with Al-Manahil. Manchester United Fan.
Jawad - Newly recruited from Pakistan. IT expert and book quotation specialist. Business background and an interest in philosophy & snooker
We also have two wonderful ladies who wish to remain anonymous who look after our accounts and customer service, Said our truck driver, Salem and Jaffer in charge of clearance at the Cargo terminal at Muscat airport and a new 15% Omani partner who used to be advisor to the Minister of Commerce and Industry until he retired recently.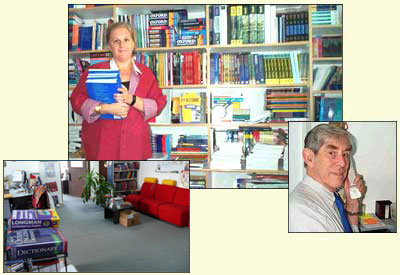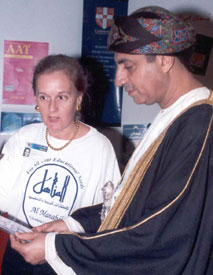 • Femme magazine - June 2014
• Face of the Month - Times of Oman - Faces Magazine June 2014
NEWS
• http://www.batch.co.uk/web/bookseller-focus/al-manahil-oman
• From the new British Embassy magazine - Al Forsa
Bill and Maggie Jeans came to Oman in 1990 to work at Sultan Qaboos University. They did not imagine that twelve years later they would still be in the Sultanate importing books. Their Company, Al Manahil, was established six years ago and specialises in the supply of books to order for the government and private sector throughout Oman. Customers include the British Council, SQU, the Sultan's Armed Forces and the many private colleges and institutes which have recently been established.
The spacious offices in Al Khuwair include a Resource Centre for ELT (English Language Material). "There is a growing demand for English language material throughout the Sultanate with many Ministries and companies in the private sector establishing their own training departments," Maggie, a former English teacher, explains. The company represent Cambridge University Press in Oman and also works closely with several other major UK publishers including Oxford, Macmillan and Pearson.
"The reform of education throughout the government schools which includes the introduction of English language into Grade One will have a major impact on language development. In a few years all young Omanis will be bi-lingual," says Maggie. The reforms have resulted in the largest orders handled by the company including 47,000 copies of Oliver Twist specially printed for Oman. This is produced in a special graded reader format for learners of English as a second language and read by all students in Third Preparatory. Besides ELT, the company specialise in the supply of medical books and journals. As former Professor of Radiology at SQU, Bill is well placed to offer customers advice in this area. Together, Bill and Maggie, tackle tenders and quotations for long lists of academic, technical and professional publications. "We are members of the British Booksellers Association and our aim has always been to provide a fast and economical service. We are also committed to Omanisation and currently employ two young Omani trainee booksellers," says Maggie. The company have a weekly shipment from the UK using Charles Kendall Freight, another well-known company in the Sultanate. The new website
www.almanahil-books.com
links directly to various publishers and includes a link to Amazon UK.
"If readers want to use a credit card to purchase books directly from Amazon for their own use but don't want to pay the high shipping costs, they can enter our UK shipper as the address and collect the books from our office for a nominal fee," says Bill.
The couple are joint owners of the company and now have investor visa status. "Very few British expats seem to have gone down this route but it does have many advantages. We would recommend this path to others," says Maggie. The company can be contacted at
manahil@omantel.net.om